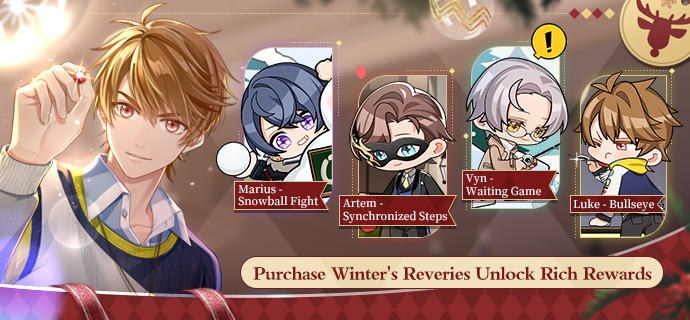 Interactive Chibi Invitations Available for a Limited Time

Enjoy yourselves and join in on the winter fun!
All-new interactive chibi invitations include exclusive interactive minigames and the special BGM "Xmas Partyland - Warm Winter."

✦ Event Period:
2021/12/11 11:00 – 2022/1/1 04:00 (UTC+9)

✦ How to Obtain the New Interactive Chibi Invitations:
1. Enter the "Winter's Reveries" event page to purchase the Tiered Pass or Winter's Reveries. You can obtain rewards such as Luke SR "A Star in the Palm" ×4, "Winter Invitation" ×1, and more. You can use "Winter Invitation" to exchange for one of the four new interactive chibi invitations (Luke "Bullseye" Invitation, Artem "Synchronized Steps" Invitation, Vyn "Waiting Game" Invitation, and Marius "Snowball Fight" Invitation).
2. Purchase the "Winter Invitation" Pack. It will be available in the Mall (Packs - Limited-Time). The pack contains both "Winter Invitation" and S-Chips.
*If you already own all the Invitations from this event, you can convert Winter Invitations into S-Chip ×380

Have fun with him on a winter date!